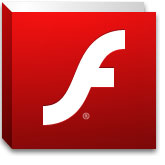 **An updated version of this post is available, click here**
Adobe Flash Player 10.2 has been released. The installation is pretty straight forward, with one caveat. There are two installation files; one for Internet Explorer and the other for Firefox.
Both of these installation files are easily deployed silently to all your computers using default .msi silent parameters.
We're going to demonstrate deploying this application using PDQ Deploy Pro. We normally illustrate using our free version of PDQ Deploy, but Flash Player comes in two files; one for Internet Explorer and the other for Firefox. Since PDQ Deploy Pro allows us to have multiple packages in one installer it makes sense to demonstrate using the pro version.
If you would like to install Adobe Flash to all of your computers using the free version that is still possible, but if you use both IE and Firefox you'll need to create two installers.
If you would like to give the trial version of PDQ Deploy Pro 1.2 a whirl, grab it here and follow the steps shown in the video below to create a single installer for both IE and Firefox versions of Flash Player 10.
---
---
Here is the step-by-step video of deploying Flash player to all your computers (if your company blocks YouTube simply shoot us a note and we'll get it to you via our support forum).
In the video we illustrate determining which of your computers require the Adobe Flash upgrade by using our flagship product, AA Console.
If you have any requests on other video demonstrations that you'd like to see please let us know. We love whipping videos out. Please visit our YouTube page at YouTube.AdminArsenal.com and be sure to sign up for notification when we release new vids (several times per month).
---
Follow us on Twitter: @ShawnAnderson @AdamRuth @ShaneCorellian